2021's event will be held on…
Friday 3rd December 2021
5pm – 9pm
FREE EVENT however donations can be given at barriers into town
---
STALL BOOKINGS
Stalls: Please email if you would like a stall at this years event
Indoor Stalls (Corn Exchange) : These are reserved for local charities email us
If any local café or restaurants would like to use pitches outside their premises for selling food and drink please let us know ASAP – we would prefer to offer locally made produce rather than have to get external stalls.
---
ROAD CLOSURES
The centre of Blandford Forum will be closed from 16.00 to 22:00,
involving West Street (starting at River Mews Entrance), East Street (Starting at the bottom of Sheep Market Hill. Sheep Market Hill traffic direction will be reversed), The Market Place, Salisbury Street up to junction with The Plocks and White Cliff Mill and Church Lane from outside of the Bank House / electrical substation.
PLEASE NOTE: Sheep Market hill traffic direction will be reversed. East Street from the junction with Damory Street and Wimborne Road to the bottom of Sheep Market Hill will be closed from 17:00 -18:30. Whitecliff Mill Street will be 2-way traffic from the junction with Park Road to the junction with Eagle House Gardens, enabling access for the Doctors' surgeries and residences in Eagle House Gardens, Bryanston Street, Shorts Lane, Parklands and Hanover Court.
---
LOCAL BUSINESSES
We would like to continue our of support local businesses and crafter's as much as possible again this year by continuing our 'Shop Local and Shop Safe' promotion via our website. Email us to advertise your business.
Also let us know if you are opening late for Festival night and we will also promote this!
We have a programme booklet produced and distributed on the evening that contains the programme of events, important information and the words for carol singing. There is an opportunity to advertise your business, please get in touch if you are interested.
---
LANTERN PARADE
Lantern Parade through the town by pupils from the primary schools in the Blandford Schools Network, led by The Mayor and Father Christmas.
NEW this year the parade will be joined by Blandford Scout Group and Blandford Gym Club.
NEW this year a small change to the route: schools/groups will form in East Street. Will go up Church Lane, left into The Plocks, left into Salisbury Street and left into Market Place.
We are asking for no pushchairs to take part in the parade please.
Blandford Rotary and Blandford Scout marshals will be in the Market Place.
The Blandford Stour Valley Band won't be leading the procession this year but will be set up in town ready for Carol singing following the parade.
After parade can Schools & Groups leave marker boards at the Church door please!
---
NEW – CHRISTMAS TREE LIGHTING
Usually this is a separate event but we have combined the two events and bought the festival earlier in December (previously 2nd week of December)
After the Lantern Parade, Father Christmas will join the Mayor on the green in front of the Church to officially turn on our Town's Christmas Tree.
---
CAROL SINGING
Following the Tree Lighting, The Stour Valley Band will be playing and everyone can join in carol singing.
NEW this year Decibels choir will be leading the carol singing on the green in front of the church.
---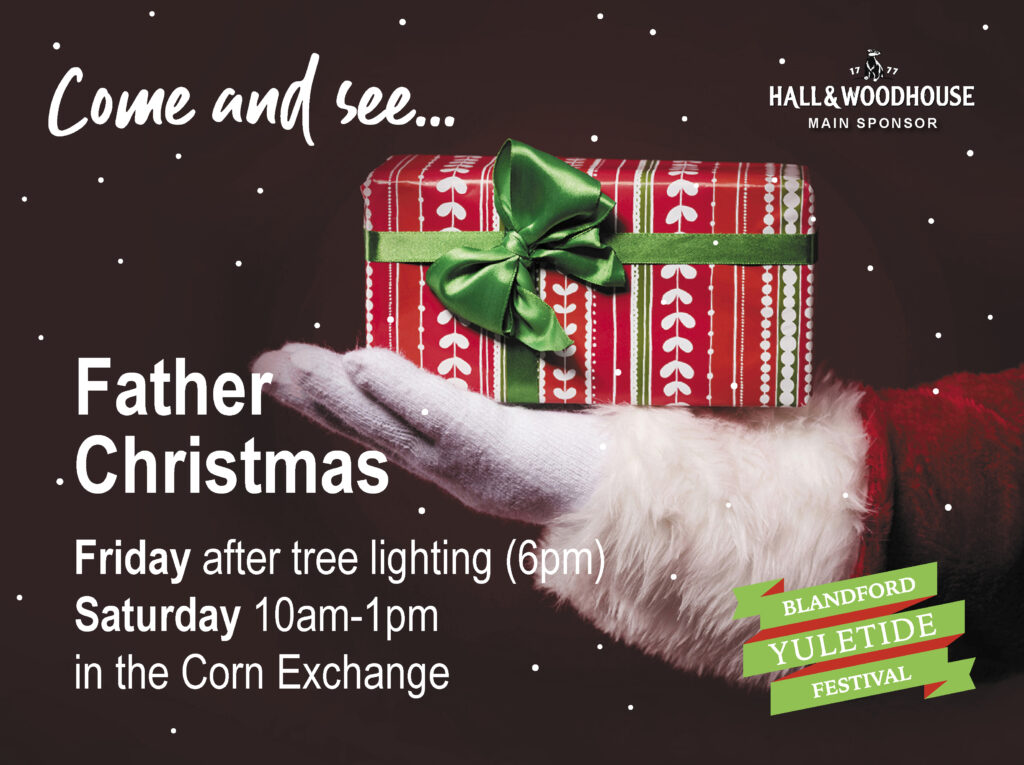 FATHER CHRISTMAS
On Friday, Father Christmas will be leading the lantern parade along with Blandford Forums Mayors party.
Following the parade and Father Christmas will officially turn on the town Christmas tree lights.
Father Christmas will then make his way into his grotto in the corn exchange where young people can visit him and receive a gift – £2.50 per child.
On Saturday, Father Christmas will be back in his grotto between 10am – 1pm. There will also be great stalls in the Corn Exchange too.
---
ENTERTAINMENT
on the green in front of the church…
Stagecoach
The Artori Academy
---
Some rides will be set up in town
---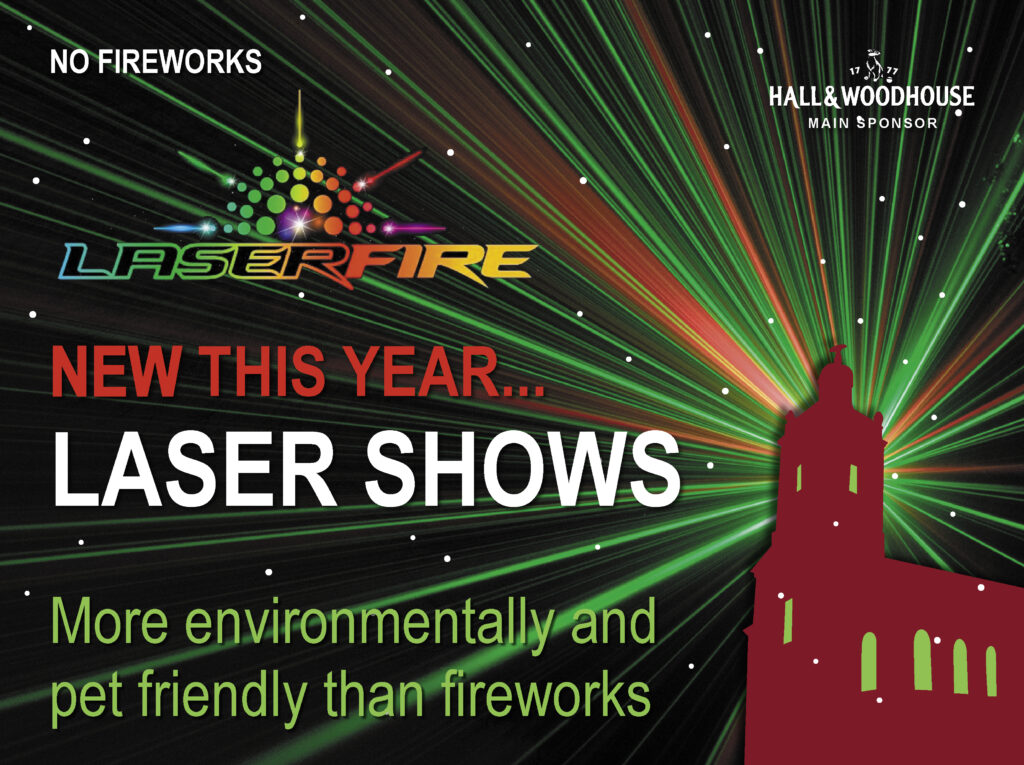 We feel there are many benefits to finding an alternative to our usual fireworks display so we are pleased to say we will be trying a Laser Light Show by LASERFIRE
There will be a light show during the parade, a short display at 7pm after the carol singing and then a longer finalé show at 8.30pm
---
NEW ENCOURAGING AN ENVIRONMENTALLY FRIENDLY FESTIVAL
Light display rather than Fireworks
Advertising – Reusable banners rather than printing many plastic posters we decided to just pop some reusable banners up in key locations around town. We will need help from locals to spread the word as much as possible by voice and/or social media.
---
THINGS TO NOTE
Control Centre on the day of event in the Parish Rooms
Barrier Volunteers – report to Control Centre
St John Ambulance – will be in the Market Place
Lost/found vulnerable persons – located in Corn Exchange
Toilets – public toilets located in various places in Town
We always need extra help, if you would like to volunteer please email us ASAP
---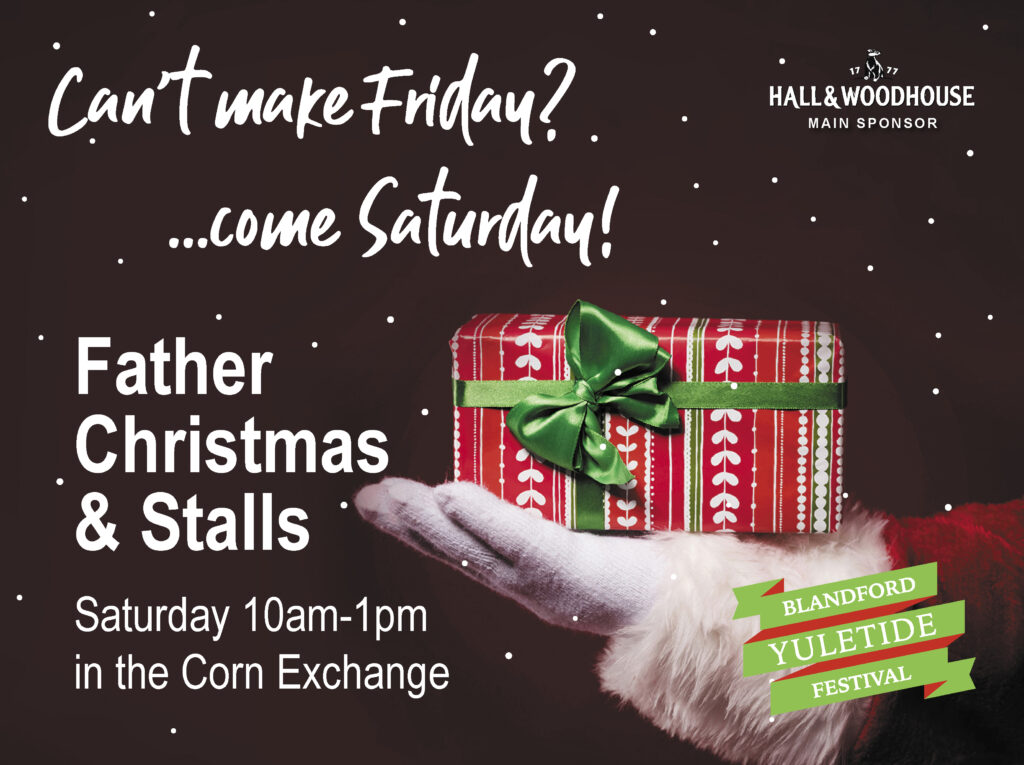 NOT AROUND FRIDAY? …COME AND VISIT ON SATURDAY!
Come to the Corn Exchange on Saturday to see stalls and Father Christmas will still be in his grotto!
Saturday 10am – 1pm
---
THANK YOU TO OUR SPONSORS
Hall & Woodhouse our main sponsor
Wessex Internet
Symonds & Sampson
Chaffers Blandford sponsoring the printing of the new banners
Lesley Shand Funeral Service sponsoring the printing of the programmes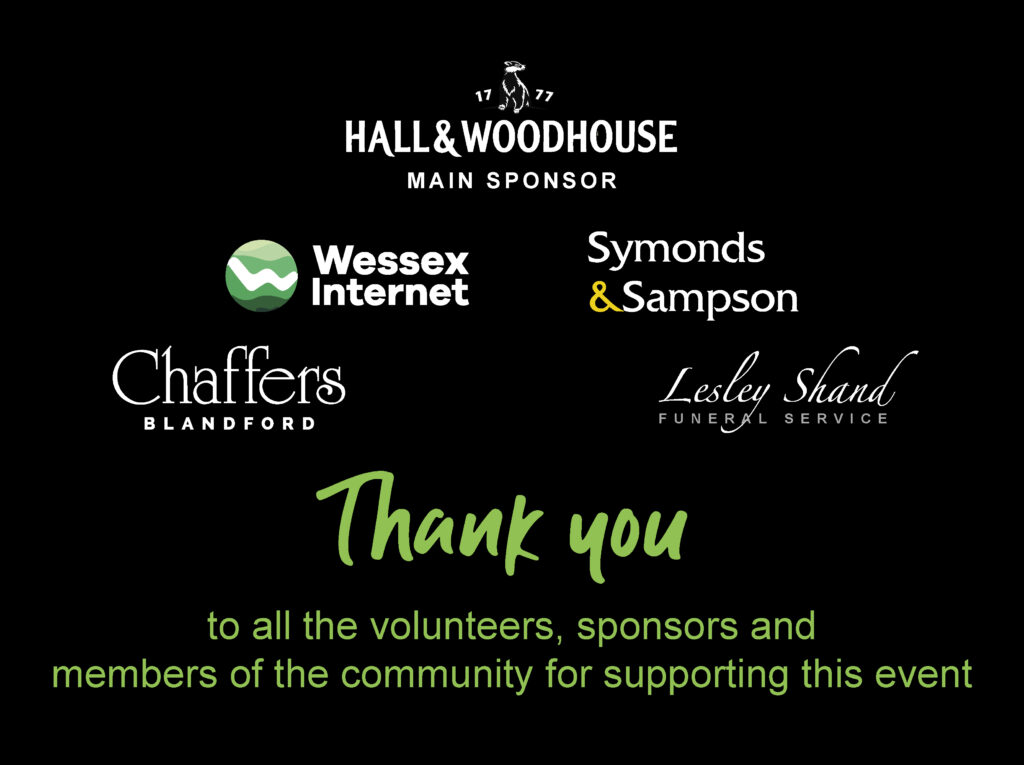 If your business can also sponsor the event please get in touch
---
The Blandford Yuletide Festival committee were planning a weekend / 3 day event however this has not been able to happen this year, we may look at doing this in 2022. If any stall holders, entertainers, bands would like to take part next year please email us
---
Like us on Facebook to see updates